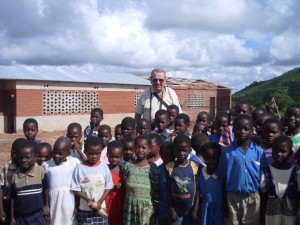 San Marino for the Children was born in 2007. It is an independent no-profit organization composed of San Marino volunteers, whose main purpose is the promotion and protection of children's rights in San Marino and worldwide according to the United Nations Convention on the Rights of the Child.
The association San Marino for the Children was established in 2007, based on the experience that Marino Forcellini had made in Zambia over the years.
In 2009 Marino Forcellini received the "San Marino Award", a prestigious award bestowed on San Marino citizens who, given the importance of their actions and their well-deserved fame, put themselves in the spotlight in the field of civilian valour, honouring the name of the Republic in an extraordinary way.
In the wake of this experience in Zambia for "Angel Village", Marino founded with some friends a new association, "San Marino for the Children Onlus" , of which he immediately became the President, to continue to implement international solidarity projects for the poorest children in the world. San Marino for the Children has decided to operate exclusively through unpaid volunteers: this ensures that all donations are used exclusively for charity projects.
In 2008 the association decided to help Malawi, one of the poorest countries in the world. It is located in south-eastern Africa, bordering Mozambique, Zambia and Tanzania.
Now , in 2017 , we are still working to help Malawi's children.